Insurance Levy
June 2023
Insurance Levy
The Insurance Authority ("IA") has replaced the Office of the Commissioner of Insurance to regulate insurance companies since 26 June 2017. Under this new regulatory regime, with the gazette of the Insurance (Levy) Order ("the Order") and the Insurance (Levy) Regulation ("the Regulation"), all new and in-force policies underwritten in Hong Kong are subject to levy, effective 1 January 2018.
Except for certain policies (reinsurance business, policies underwritten by authorized captive insurers, and marine, aviation and goods-in-transit business are exempted from the levy by law), policy holders of all new or in-force life insurance policies and general insurance policies must pay the levy along with their premium payment.
The following table summarizes the levy rates and cap for respective years for life and general insurance policies-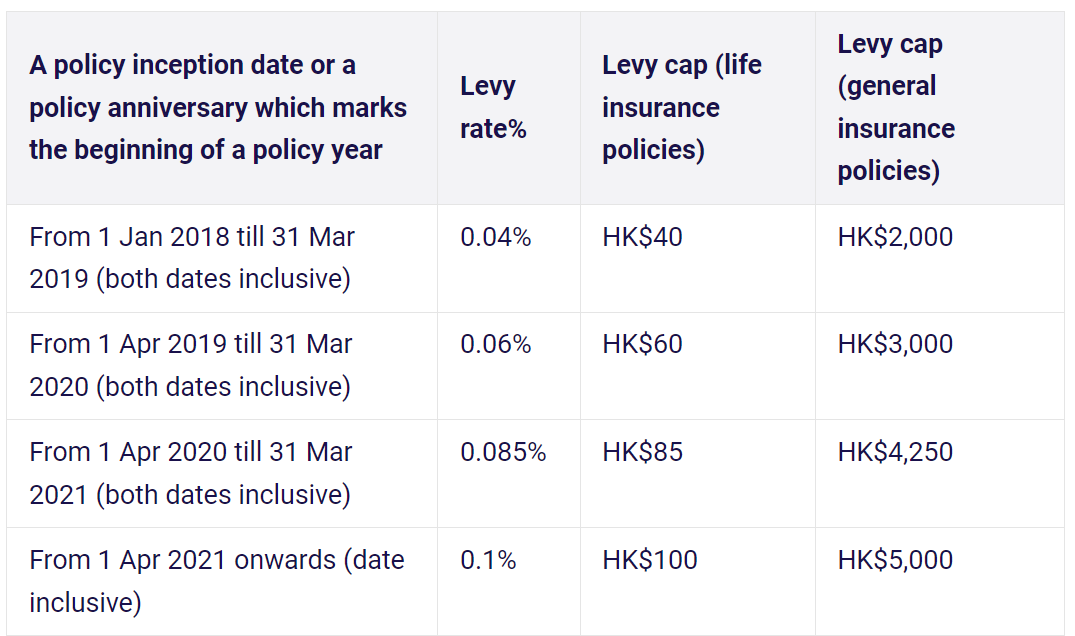 For further information, please visit https://www.ia.org.hk/en/infocenter/faqs/faqs_levy.html
Frequently asked questions
What is the liability if a policy holder fails to pay the levy on insurance premiums?
As stated in the law, if a policy holder does not pay the levy as required, the Insurance Authority (IA) may impose on the policy holder a pecuniary penalty of up to HKD5,000 and may recover the outstanding levy as a civil debt due to IA.
Can a policy holder pay levy directly to the Insurance Authority (IA)?
As stipulated in the Insurance (Levy) Regulation, policy holders must pay the levy through insurance companies.
How can I know the exact amount of the premium levy?
Premium and levy payable will be separately shown in the debit note to facilitate the policy holder to arrange payment.
Are there any policies exempted from the levy?
Except for marine, aviation and good-in-transit business of general insurance, all general insurance policies are subject to the levy.
Will levy be refunded to policy holders?
Refund of levy is allowed if the corresponding premium becomes refundable, e.g. alter from inception, cancellation of policies, cooling off, etc. However, there will not be refund of levy if the amount of levy payable on premium after refund has reached the levy cap and for cancellation of policies that do not constitute any premium refund.